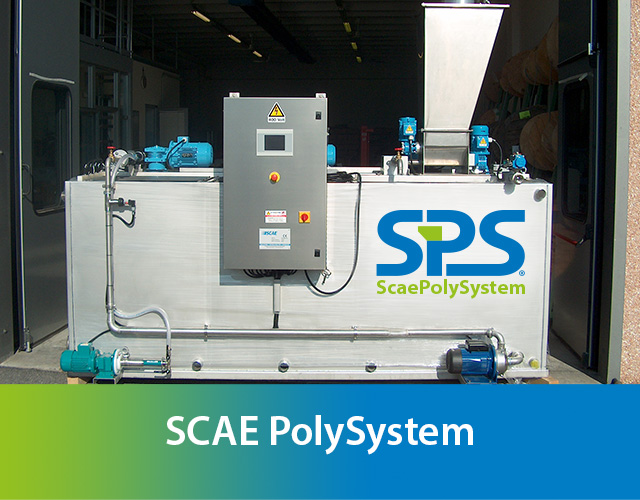 The SCAE System for Polyelectrolyte Solutions
SCAE, thanks to its twenty years of experience in the field of sludge and similar dehydration, offers an integrated system for the automatic preparation of polyelectrolyte solutions in powder and emulsion form that includes the relevant loading and maintenance activities over time. This innovative approach relieves the customer of all tasks, including the supply of "chemical" powders.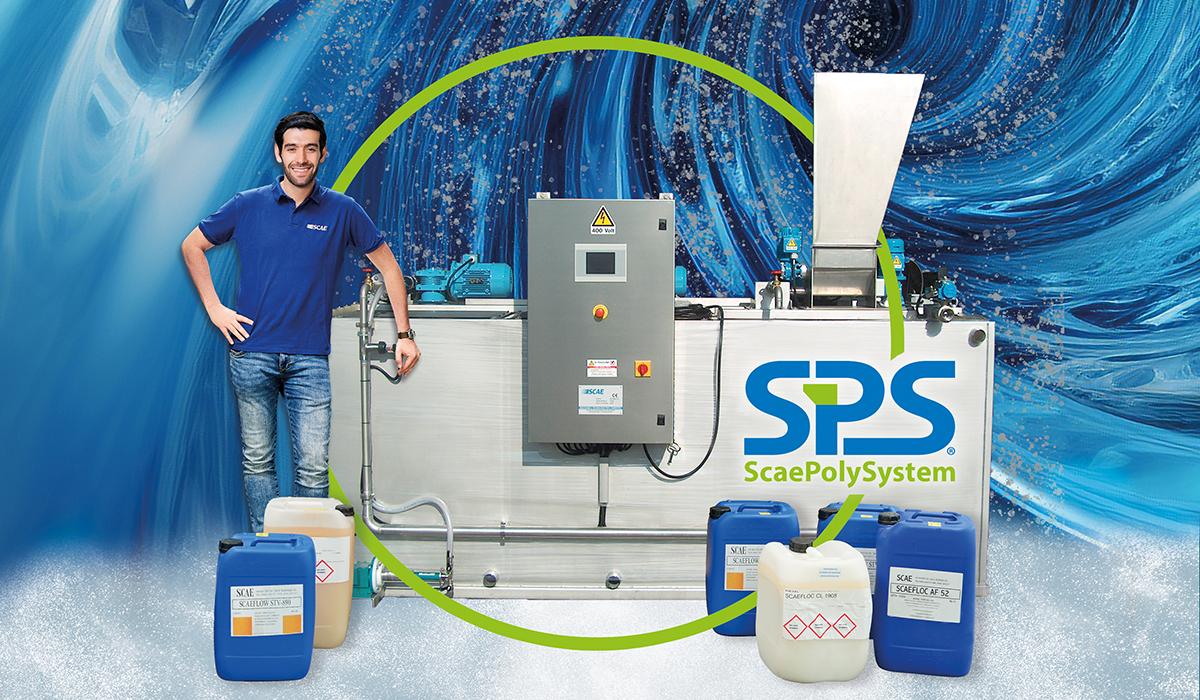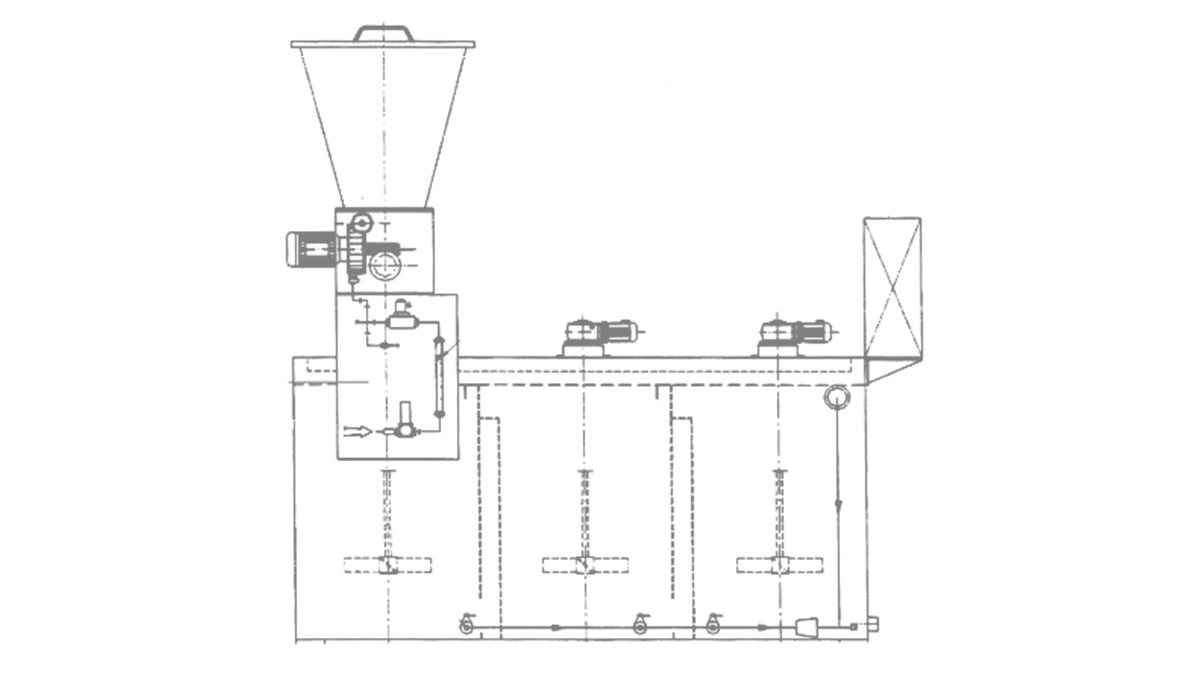 The SCAE polypreparator PPA is an automatic system for the continuous preparation of polyelectrolyte solutions from powder and/or emulsion product. It is mainly used in mechanical sludge dewatering processes performed with centrifugal extractors. Its primary function is to obtain polyelectrolyte solutions at the desired concentration in an absolutely automatic way without wasting product and with perfect dispersion and homogenisation of the same.
The system includes a powder storage and dosing system, a piston pump for dosing the emulsion product, a dilution and dispersion system, a water regulation unit, a tank with three compartments communicating with each other by overflow and an electrical panel for system control and command. SCAE polypreparators are divided into two distinct macrocategories, BASIC and TOP, within which we find other subgroups subdivided according to the polyelectrolyte treated: powder, emulsion or both.
PPA
AUTOMATIC POLYPREPARER FOR POWDER/EMULSION
consisting of nr.03 AISI 304 stainless steel tanks
Treated material

Polyelectrolyte powder/emulsion

Capacity

3.000 lt

Flow rate

3.000 lt/h

Hopper capacity

100lt

Dispenser

Capacity

3 - 15 kg/h

Power

0.22

Agitator

Nr. of Agitators

03

Power

0.37 Kw

Shaft diameter

30 mm

Shaft height

900 mm

Impeller

4-bladed – 250 mm diameter

Attachments

Water input

1"

Water discharge

1 ½" mm

Overflowing

1 mm
Performance
| Capacity - lt/h | Dosing capacity - kg/h | Pressure - Bar |
| --- | --- | --- |
| 3.000 | 3 - 15 | 2 |
| | |
| --- | --- |
| Tank | Acciaio inox AISI 304 |
| Hopper: | Stainless steel AISI 304 |
| Auger | Stainless steel AISI 304 |
| Agitator shaft and impeller | Stainless steel AISI 304 |
| Electrical panel | Painted steel |
Anti-condensation heater 220V
Low dust sensor
Valved drains
Synoptic panel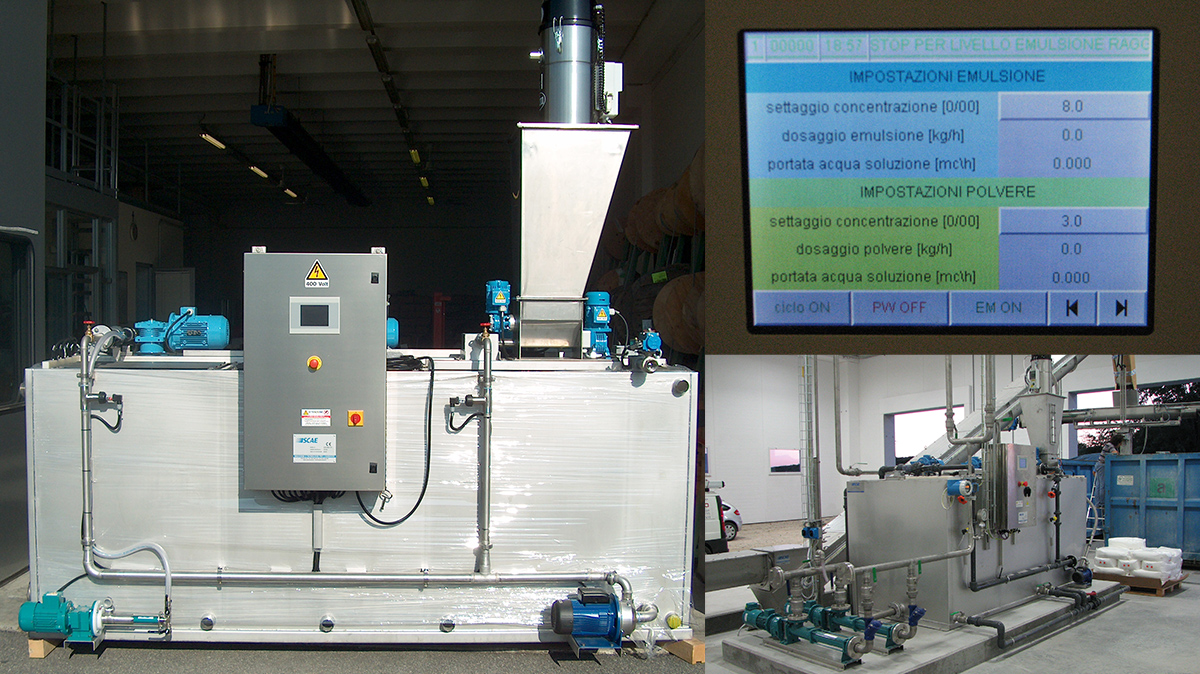 SCAE is active in the field of civil and industrial wastewater treatment, sludge treatment and general ecosystem protection.

Specifically, it has in the market a complete range of base chemicals and formulations for every application operating in multiple industrial processes, including food, beverage, meat processing, dairy and so on.

Over the years, SCAE has built up a strong customer base of big-name industries that rely on our fast and efficient chemicals supply service to continue producing in a sustainable way with reduced environmental impact.
CHEMICAL PRODUCTS